Workshops im Rahmen der Orientalhane
Die Workshops finden in der Filmbühne auf und vor der Bühne statt.
13.00 - 15.00 Uhr Nawal Doucette (Egypt/Canada) - Criminals of Cairo – Modern Oriental Shaabi Workshop

Dauer: 2 Stunden - Preis 30€
Nawal brings back some flavor from the middle east on her recent trip to Cairo. Hot pop from the Egyptian streets, and hot combos for the Berlin dance floor. Lots of attitude, isolations and even more hipwork!! Come dance the feeling of Modern Egyptians with Nawal's signature badass styling. <3 All levels all styles welcome.
Deutsch: Nawal bringt uns neue inspirationen von ihrer letzten Reise aus Cairo mit. Heiße, poppige und tolle neue Bewegungen und Kombinationen für die Berliner Tanzszene. Viele schöne Attitüden, isolationen und Hüftkombinationen erwarten euch. Kommt und tanzt den modernen egyptischen Tanz mit Nawal's einzigartigem Stil.
15.00 - 17.00 Uhr Nawal Doucette (Egypt/Canada) - Evil Queen Realness - Tribal Fusion
Dauer: 2 Stunden - Preis 30€
Evil Queen Realness: Tribal Fusion combinations to Doom Metal music.
Get in Touch with your inner evil Queen, with dance combos that cast your nemesis to the bowels of hell we will hold suspense and suspense your movement and give your dance power and purpose on stage. 🖤
Deutsch: Die Tänzerin und Tanzlehrerin Nawal tourte mit der Heavy Metal Band Zaum durch Nordeuropa und performte im Zuge dessen Tribal Fusion zu deren Metal Music. Durch diese inspiration und Zusammenarbeit entstand die Workshopreihe Tribal Fusion zu Metal music. Nawal ist Fat Chance Bellydance Tribal Style Sister!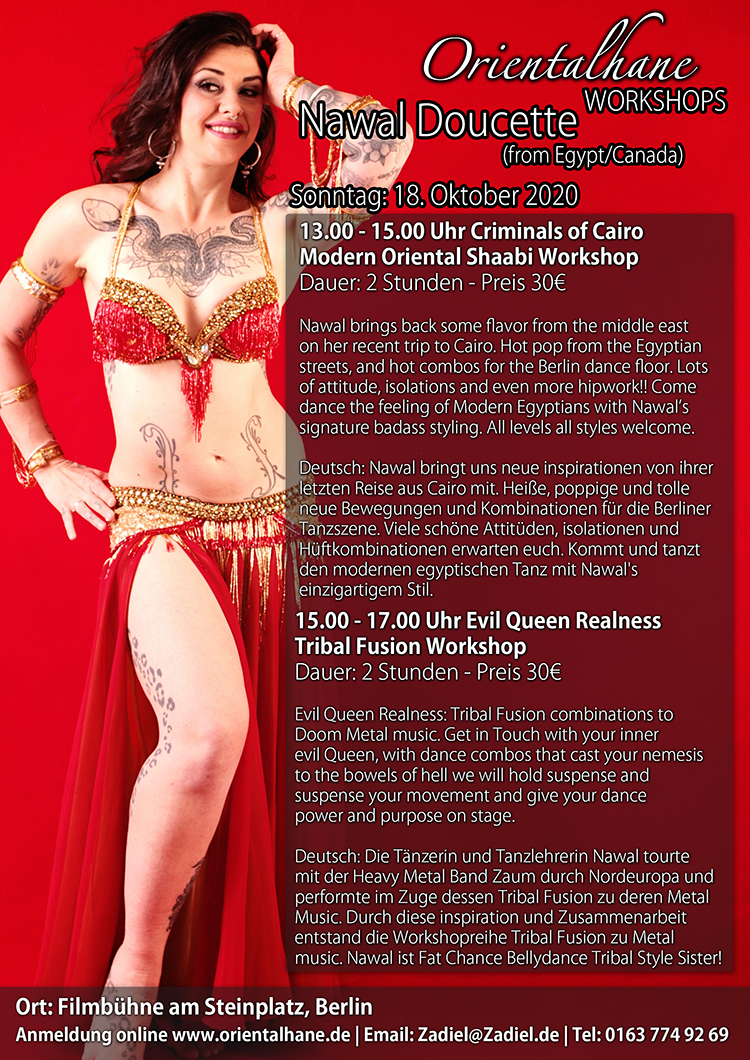 About Nawal (Egypt/Canada):
In addition to her Egyptian Heritage, Nawal is a professionally certified Level 4 teacher of middle eastern dance through the legendary Salimpour School of Bellydance. She is an internationally recognized teacher and performer, and in 2018 toured as a key member of Bal Anat, the worlds longest running Middle Eastern Dance troupe.
She is also an E-RYT200HR "experienced" registered yoga teacher through YOGA ALLIANCE and a member of Internationally touring Doom band Zaum, who are signed with Listenable Records.
She has dedicated her life to raising the level of perception of Arabic dance artists and this authenticity ensures her students have a responsible, safe, effective and professionally educated approach to learning this art form free from orientalism and cultural appropriation.
- SUHAILA Level 4 & JAMILA Level 3 - working toward Suhaila Level 5 for end of 2020 has assisted Suhaila Salimpour over 110 hours in the past 16 months,
Core Member of Bal Anat 50th Anniversary tour 2018 USA.
I toured as a Gawazi, Pot Dancer, Algerian, and in Ismaouni for all 4 shows.
- Fat Chance Bellydance American tribal style sister studio since 2013
- EXPERIENCED Registered YOGA Teacher E-RYT200
- Has Taught internationally as well as across Canada
- Tours internationally with Mantra Doom act Zaum, signed with listenable records based out of France.
**********************************
Datum: Sonntag, 18. Oktober 2020
Ort: Filmbühne am Steinplatz, Hardenbergstr. 12, 10623 Berlin
**********************************
Anmeldung über den Organisator der Workshops: Zadiel Sasmaz
Tel: 0163 774 92 69
Email: Zadiel@Zadiel.de
Oder per online Formular unter
Tickets
!
Die Workshops sind streng auf maximal 10 Personen limitiert. Wenn du mitmachen möchtest, melde dich am Besten sofort an!
Bei Anmeldung muss binnen einer Woche der Workshop Betrag komplett auf unserem Konto eingehen.
Es gibt keine Rückerstattung.